Sandwiches
There's just something about a sandwich that can cure even the worst of days.
Feeling sad? Eat a sandwich. Hungry? Sandwich. Anxious? Sandwich. You get the picture. Whether you're into a classic Philly or love a chicken and beef sandwich, there are so many combinations here that we'll never get bored.
"Life is like a sandwich, the more you add to it, the better it becomes."
Our sandwiches are customized to spark your taste buds with our fresh, clean grass fed meat, delightful crispy veggies picked from amazing vendor who only serve the best produce. A meal you will keep coming back for more.
Try our wide range of Sandwiches:
Shrimp Po Boy | Philly Steak | Philly Chicken | Spicy Chicken Sandwich | Original Chicken Sandwich | Deluxe Chicken Sandwich | Deluxe Spicy Chicken Sandwich.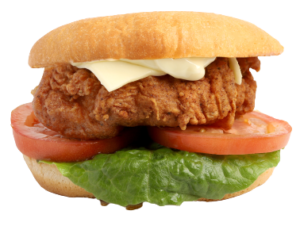 *Our Food And Drinks Is Served All Day